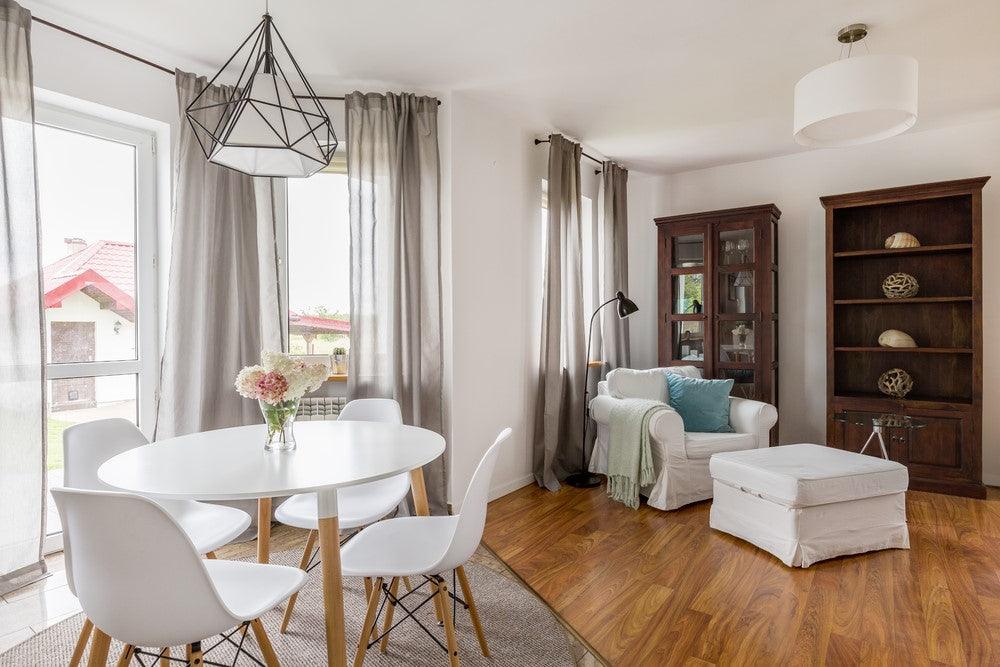 Small Apartment Interior Design Ideas that Scream Personality
Living in a cramped apartment can often feel claustrophobic. In order to navigate the hurdle of space limitations, many homeowners come up with creative ways to organise the area. With a huge pool of small apartment design tips and tricks floating around in the World Wide Web, such as game-changing ways to arrange your furniture and a plethora of other interior design hacks, one would assume that all these information would suffice it helping apartment dwellers to find a stylish design solution. However, that does not seem to be the case, with hundreds of homeowners opting for a minimalist approach when renovating or revamping their small apartments. But fret not! In this article, we break things down to the basics, exploring strategic styling methods for each room. Beyond looking at things from a big picture perspective, we dive into the nitty gritty details of each space so that you'll gain inspiration for some creative organisation.
1. Living Room
When designing a small living room, there are several 'Dos and Don'ts". From installing mirrors to leaving the floors free from any clutter, there is a wide range of design hacks to consider. But there are indeed more interior design ideas for you to leverage so that you can create the illusion of a bigger room. For example, you could layer your coffee tables instead of opting for a large one that will occupy a large amount of space. Taking inspiration from such layering techniques, playing with scale throughout your entire living room might be a good trick to adding dimension and depth to the space. So, how can you pull this off when the living area requires a few large and fundamental pieces like the good ol' sofa? For starters, be sure to get your hands on a customised sofa that is built with a configuration that is befitting to your personal taste. If you've chosen a 3-seater sofa or L-shaped sofa and would like to add dramatic design movement, layer an armchair in the space so that contrast and intrigue are created.
Besides these basics, modern furniture like TV consoles can be used to serve other functions such as the storing of knick-knacks. Having guests over, but don't have a guest bedroom? Throw in a sofa bed that will transform from a couch by day and chic sleeping space by night.
2. Bedroom
A place for respite – a bedroom has to be calm, serene, and undoubtedly one of the most comfortable spaces in a home. But when faced with the challenge of designing a small bedroom, many homeowners think that they'll have to downsize all the furniture in the area. A small wall mirror, a single-sized mattress, and no other furnishing does not have to be your final resort. As a matter of fact, all you'll have to do is to choose multifunctional furniture pieces. For example, a chair can be used as a shelving space, only to be pulled out later as a seating solution. If downsizing is the only option, then scale down on the other "unimportant" furnishings to work around the space constraint. Instead of a large bookshelf or a long bench, use a stool with lithe legs that will not take up too much visual space.
3. Dining Room
For the ultimate place for all to gather, extendable dining tables are your best friend in a tight dinette. Adding patterns will also bring interest, drawing attention away from the small space. Therefore, instead of following a monochromatic theme, play around with varying textures and colours in the dining area. By layering a rug under the dining set, you'll also be able to delineate the area, making the rest of the room seem more expansive. Sleek and well-structured legs of the dining chair will also give the illusion that there are loads of extra room.
4. Study Room
Just like your bedroom, the ambiance of your study room is pivotal. Though not the ideal part of a home to throw in a luxury sofa, there is one design element that must be included here at all times – storage solutions. Though bookshelves might seem like an ordinary furniture piece to stack all your books, with a little effort, they can add personality to everything within its radius. Also, since many Singaporeans tend to have their bedrooms double as their study rooms, it is also crucial to decipher between what is important and what is unnecessary.
From practicing the basics such as measuring the furniture you have your eyes on to looking for innovative pieces that serve dual purposes, interior design for a small space can be just as fun. If you're looking for more interior design ideas for your small house, come on over to one of the HomestoLife furniture stores in Singapore. Boasting a wide range of home furniture such as 2-seater sofas, display shelves, and everything in between, there is no better place to be for all your design ventures.