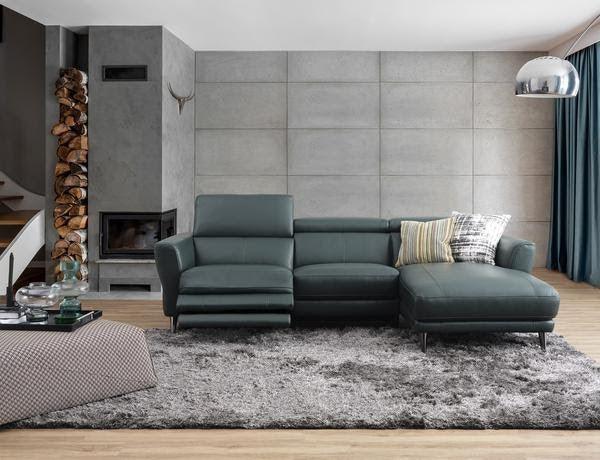 Understanding the World of Leather Sofas
The process of leather making itself has been around for over 7,000 years. Today, it is available in many diverse manifestations, from handbags to jackets and is used in a multitude of ways. Having carved its way into residential design years back, the popularity surrounding this material and its use around the house is undeniable. Generally associated with durability, sophistication, and luxury, leather furniture comes in all shapes and sizes. Having been the material of choice for furniture for homeowners from all walks of life, its versatility is almost on par with that of wooden furniture. Before we dive headfirst into covering the tactility offered by leather sofas and how you can go about choosing one that will elevate your interior, it is pivotal to understand the different types of leather commonly used to design furniture. 
The Basics of Leather 
Like wood, leather is one of the few natural materials that is frequently used to design furniture. A good quality leather sofa will offer unrivalled luxury and lives up to even the highest of standards of comfort. Extremely durable, this is one of the few upholsteries that improves with age and adds character as it develops a patina. Despite its hefty price tag, genuine leather pieces and accents should be considered as an investment more than anything else as they are built to last a lifetime. In the furniture market, there are two popular types of leather available: 
1. Full-grain leather – The real deal
Full-grain leather is known as one of the top-grain leathers. As the most genuine type of leather you can ever find, furniture made with full-grain leather will retain the natural imprints of the hide and the animal that it was taken from. No polishing or additional treatment is done to the grain. Therefore, its imperfections will be apparent, adding to its appeal. With time, as the leather ages, its patina contributes to the entire feel of the home, almost drawing on human emotions because of the direct association many make with its history.
2. Faux leather – Leather look-alike fabric
HomestoLife Air Leather | BFA-BLJ
As its name suggests, faux leather is not real leather. It is made from 100% synthetic material and is 100% vegan friendly, making it a good choice for customers who are not keen on owning furniture pieces made from animal by-products. Even though they look and feel like real leather, it is pivotal that customers be wary that faux leather is not as durable as real leather. 
However, that does not mean that faux leather furniture are ones to skip past when shopping for your home interior. Due to technological advancements, faux leather now comes in a wide variety of styles and textures, mimicking finishes of expensive leather like suede and nubuck leather. These newer faux leather fabrics are also more breathable, unlike the traditional PU leather options. Like the BLUSH sofa at HomestoLife, these leather fabric options are made out of an upholstery known as 'Air Leather' and are available in a wide variety of colours, just like their leather alternatives.
How to Choose a Leather Sofa that Fits Your Lifestyle
A staple in any contemporary home, leather furniture, especially sofas, enhances our living environment with ease. Simply integrating a single full grain sofa, be it a 2-seater sofa or a leather recliner sofa, will ground the space and create a beautiful interior. Truly luxe, how do you choose a leather sofa that will complement your lifestyle needs?
1. Decide on the colour
HometoLife's Upholstery Material
As with any furniture, the colour of your leather sofa is extremely important when attempting to integrate it into any interior. Most leather furniture are dyed a different colour for aesthetic purposes. At HomestoLife customers can find the widest range of leather types and colour options. Unique colours like Silver Grey as seen in the WISH 2-seater sofa is one to definitely standout in any room. Screaming luxury in every way and form, design your perfect leather sofa right here in Singapore.  
2. Choose an optimal configuration 
SYMPHONY | Full Leather Sofa
From armchairs to recliner sofas, options are aplenty when it comes to the configuration of your choice seating solution. In order to pick the right configuration for your home, you'll have to consider the amount of space you have available. If you have plans to push the sofa up against a wall, then it's best to opt for recliner sofas that lean forward and not too much backwards. The size of the sofa is also a crucial aspect to consider. Would a 2-seater sofa fit better than a 3-seater piece? If there is a genuine lack of space, consider integrating an armchair instead.
Not sure where to get quality leather sofas in Singapore? Boasting an extensive range of genuine leather sofas, head down to one of the many HomestoLife stores in Singapore and find your perfect sofa today!