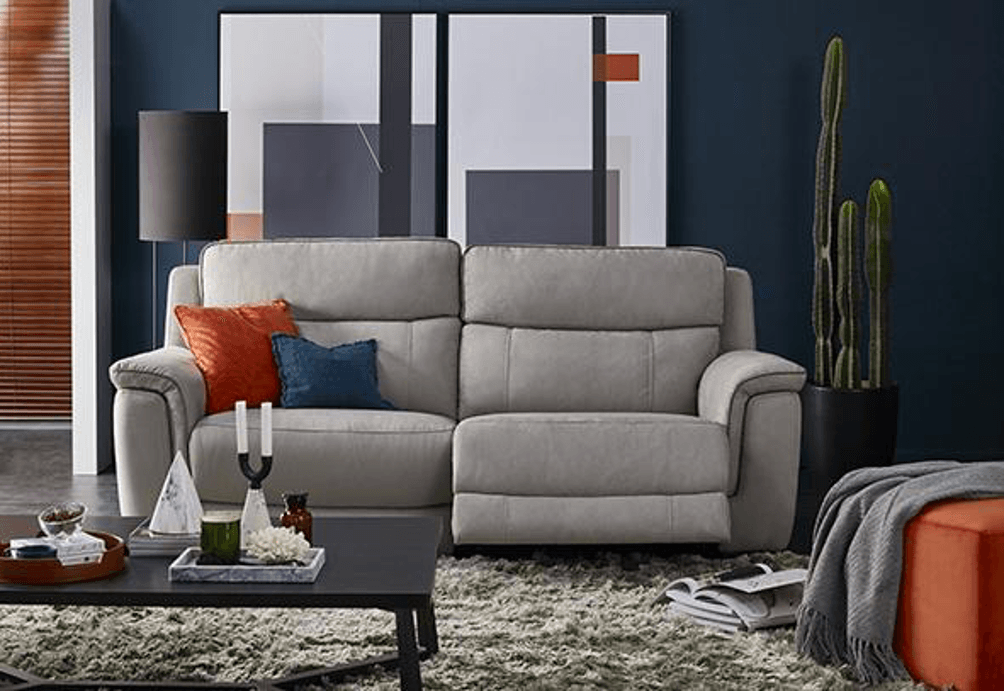 Your Ultimate Sofa Styling Guide
When it comes to confidence and poise, what you do when you first enter a room is said to be a quintessential skill. Just like how a well put together person can make heads turn and have everyone's jaw drop, in the design world, a well-decorated living room can leave people in awe. Being one of the first spots viewed by visitors, the impression it leaves is all that matters – like they say, first impression counts. And when you think of a living room, what comes to mind? A coffee table, TV console, and the most understated, underappreciated star of the room – the sofa. We've covered the ways of choosing the right sofa for your living space. In this article, we'll cover styling tips so that you are inspired by the various types of sofa styles.
1. Start with a Solid Colour
In a room filled with overwhelming elements or aspects that clash, one might not know where to begin when revamping their space. Therefore, it is always easier to start with a blank canvas – the same goes for furniture.
Neutral furnishing blends well with most colour palettes. Be it a 2 seater sofa or a full-grain leather sofa, working with a blank canvas allows for more variety when it comes to the pillow and throw combinations. Neutrals also offer more versatility and flexibility should you decide to change your design direction in the future – looking to paint your pink walls to black? Your white 3 seater sofa will still fit in perfectly. Even going for a solid white base for your sofas is a statement in and of itself. The BORACAY, for example, fitted with natural leather simply oozes sophistication, taking centre stage in any modern home.
2. Soften Things Up with Cushions
You've found your ideal sofa, and now the question lies in how to style your sofa. One easy way to add colour, patterns, and personality to your couch is to throw on some pillows. Cushions are a low maintenance solution to create a cosy feel, but must one really know how to style cushions on a sofa? Oddly enough, yes!
Although it may seem like you can never add enough pillows to a couch, it is important to consider its texture, colour, and size. Add a playful touch by selecting those with texture and stick to two or three colours at most. Utilise symmetry to create the setting you seek to achieve – start with smaller pieces and slowly build it up. Also, be sure to experiment with numbers to ensure that there is balance in the space. Tip to consider – go for odd numbers!
3. Get Compliments by Complementing
In interior design, even if you decide to go all out with maximalism or go for a quirky scheme with splashes of colour, patterns, and personality, there has to be an element of consistency – or flow, as some may call it. When thinking of how to style sofa cushions, one of the first things to consider is colour and material. Instead of matching everything, work with a theme by looking at your existing furnishing and home décor. Not sure how to style a leather sofa? Study the colours, textures, and patterns around your room and add similar elements to your sofa.
4. Unity is Key
Tapping on the above, understand that your existing decor will be your base. Armed with the knowledge of what will and will not work with your current design scheme, slowly add visual interest that is in proportion to your key pieces. Look at the bigger picture and pick complementing embellishments that will tie everything together. If you have wooden accents throughout your home, a good leather sofa will be a great addition. If everything is spic and span, something like a vintage sofa that clashes with the modern vibe will give the space some character.
Now aware of the various types of sofa styles, together with our list of styling tips, kickstart your home makeover with HomestoLife. Our furniture stores across Singapore house everything from 2 seater sofas to genuine leather sofas. So what are you waiting for? Shop our star buys and have guests drooling over the coveted cosy feel you have created in your living room.