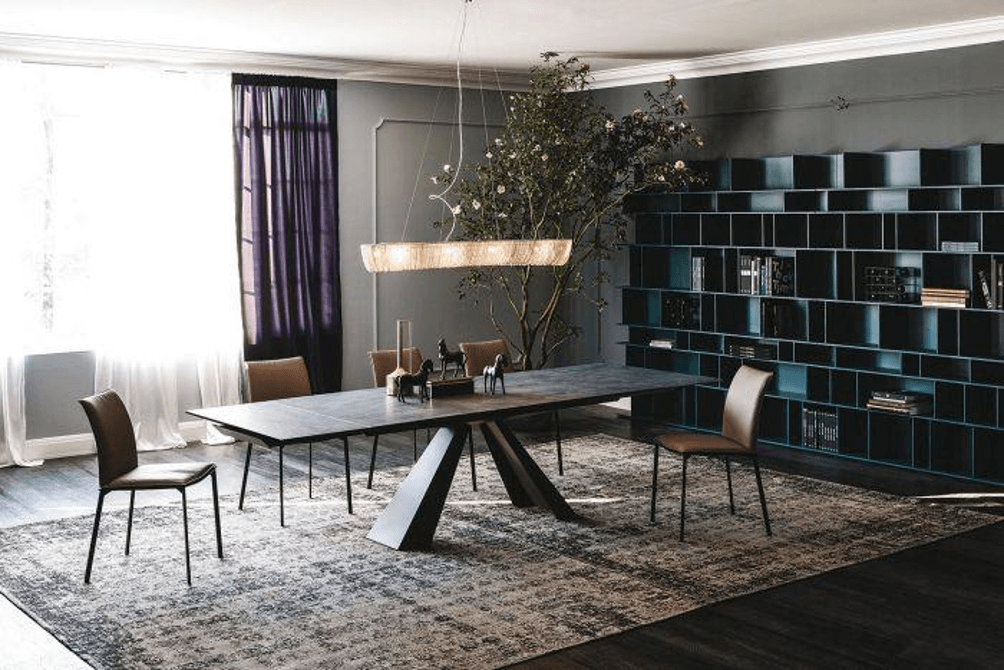 New & Hip Dining Room Trends
The holiday season is here, and that only means two things – hosting loved ones at home and finally enjoying our time off from the year's crazy work schedule! If you do plan on having guests over, everyone is sure to gather at your dining room. Your dining table becomes THE communal area where you entertain guests and have them feast during these festive get-togethers. Beyond the annual special occasions, the dinette is also a space used for daily dinners, and with many now working from home, a convenient spot to set-up a makeshift workspace. 
Given the pivotal role a dining table plays in the dining space, whether you are looking to give your dining room a little makeover or embark on a full-on remodelling project, your choice of tables can make or break the theme and vibe of the space. So, what better way to choose the best options available than by following the latest dining room trends? We cover five of them in this blog. 
Dining Room Trend 1: Emphasise on Entertainment
 As mentioned, festive seasons bring joyous occasions. With more people hosting guests in their homes, accommodating them with sufficient seating solutions is necessary. Whether you are looking to bring in more chairs or buy a brand-new sofa, the choices are limitless when it comes to you incorporating more seats for the crowd. By keeping entertainment at the forefront of your decision-making process, you just might realise that multi-functional pieces are always the top choice.
Dining Room Trend 2: Bid Adieu to Formality & Structure
Consistency is key, right? Well, not all the time. Rather than opting for furniture that complements and blends in completely with your existing interior design scheme, the latest trends call for oddity and irregularity. Instead of sticking with rigid lines, we are seeing a trend in more people designing their homes to be less formal. Focused on creating an intimate area and a more personal spot, many are adding their favourite art pieces, even mixing and matching furniture for fun. Own a rustic themed home enveloped in wood accents? Throw in a ceramic dining table, like the TAURUS, for a pop of personality. 
Dining Room Trend 3: Functionality & Beyond
Again, one can never go wrong with a multi-functional piece. Beyond serving the basic functions of a standard table, extendable tables are all the rave now due to its space-saving property. With a little slide, lift, and click, the FLORENCE CERAMIC extendable dining table is a convenient solution to the many tiny homes in Singapore. 
Dining Room Trend 4: Curated by You
There is no denying that dining table sets are an easy option to go for, especially when the plethora of options get extremely overwhelming. But guess what? Rather than designing a picture-perfect dining space, try mixing things up – match your wooden tables with different dining chairs to elevate the entire look of the dining space. At the end of the day, it is your home! An intentionally curated space is all that matters this time around.   
Dining Room Trend 5: Go Bold this Festive Season
The final dining table trend is no other than one catered to the latest festivities. This holiday season is all about thinking out of the box and accessorise the dining area! Keep accessories like plates, napkins, placemats, fancy cutleries stored away in shelving units like Warren. Another practical addition will be a side table like Baroque, which provides extra table space, working double duty as a bar counter and a sleek surface to hold more food!
The basic gist behind the new dining room trend – Go Big or Go Home. Moving out of your comfort zone and bringing in furniture that is both pretty and practical is IN this holiday season when hosting guests.
Still feeling iffy about how to choose the right dining table for your home while staying in trend? Browse the HomestoLife curated collection of dining tables and head down to our showrooms in Singapore for a closer look.