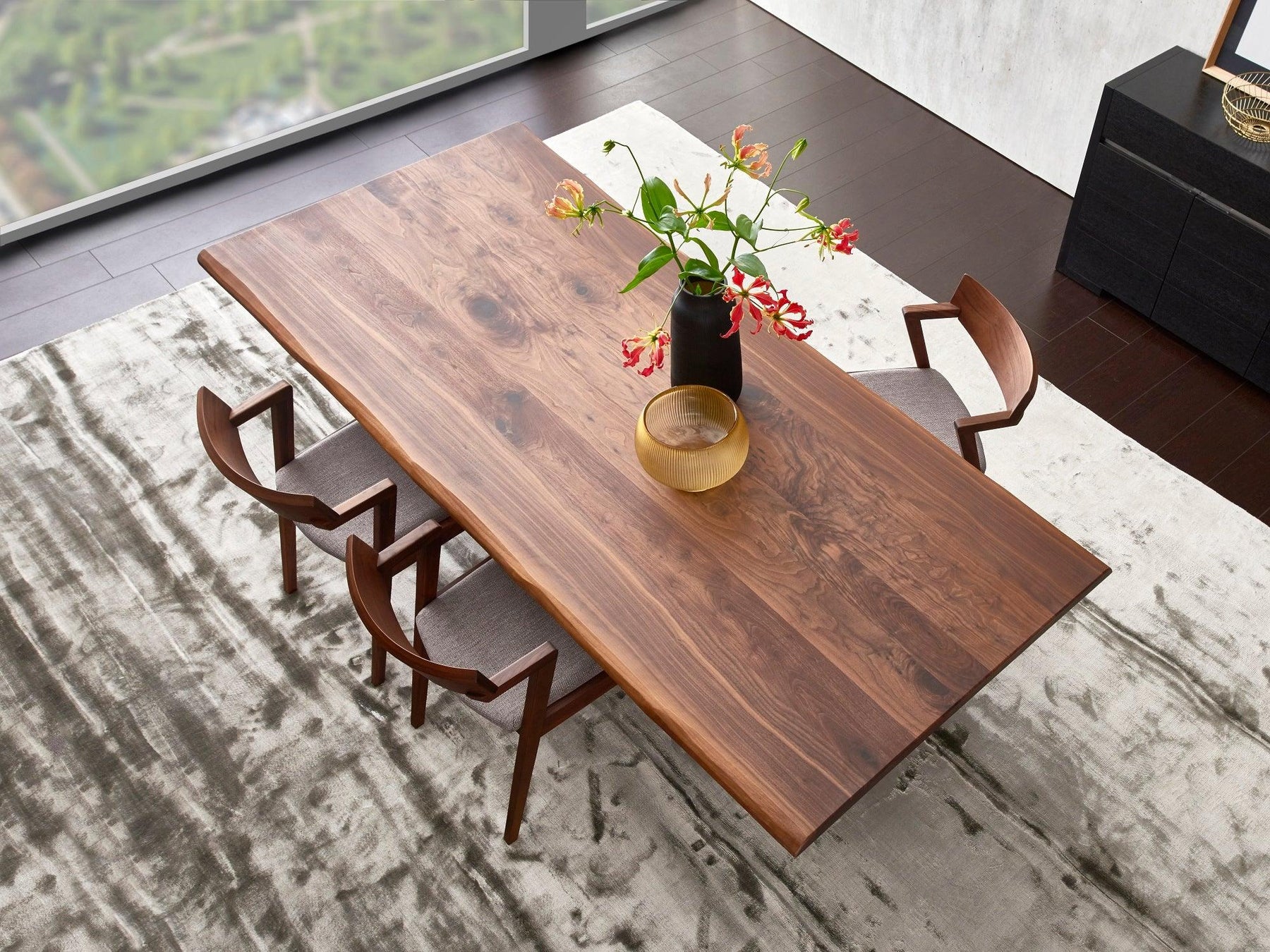 Choosing The Right Dining Table For Your Home
Other than the living room, the dining space is another key area in our homes that we should carefully plan for. If you enjoy hosting house parties, it is even more important that the pieces you choose meet your various needs and can fit into your dining space perfectly. Here, we share a few factors to consider to select a dining table that works best for you. 
SIZE
Many pieces of furniture may come together and still fit into your dining space, but you want to make sure there is still enough room for people to go around comfortably. A general rule is have at least 90cm of space from your table to any wall, sideboards or console to provide to sufficient space for people to pull out a chair to sit on. 
Image Source: Melanie Lissack Interiors
If you have a tight space, but still wish to host dinner parties, you can consider the Tuscany Extendable Dining Table.  We love the versatility to provide a larger surface area to accommodate more guests. 
SHAPE
Dining tables usually come in a few standard shapes; rectangle, round, oval and square. 
Rectangular dining tables are the most common and come in more options in terms of size, material, functions and colours. They have a large surface space and perfect for larger groups of more than 4 people. The straight edges also give you the versatility to place it against the wall. 
On the other hand, round and oval dining tables provide more space for you to go around while retaining a good surface area. We recommend dining tables in this shape for compact dining spaces. As there is no head of the table, round or oval dining tables also creates a more intimate setting and are great for conversations. 
Don't forget to consider the people at home and the usage of your dining space too. Do you have kids running around the house? Maybe a round table like Bolivia, or rectangular one with with rounded edges like Montreal, might work better for you! 
The rounded edges of Montreal is not just an elegant detail but also a child-friendly feature. Highly recommended for large families with young children.
BASE / LEGS
The type of base or legs of your dining table can affect the number of people you can sit around your dining table. A standard 4-legged table provides a good space between you and the one opposite to sit comfortably. A dining table with pedestal base have more flexibility for you to add more seats when needed. 
Image Source: Danetti
With a width of only 135cm, Raffles Dining Table takes up very minimal space but seats up to 6 people with the pedestal base. Talk about space efficiency! 
MATERIAL VS STYLE
Other than its durability, the material of the dining table affects the style and how well it blends into the interior design of your home.If you are going for a modern luxury style, a glossy ceramic or glass dining table can enhance your space with the reflective surfaces. We also exceptionally love ceramic dining table because of its heat-, stain, and scratch-resistant surface! 
A wooden dining table is versatile and can go with many different interior styles. A light wooden one is often used in Scandinavian and Japanese inspired interior style, while a dark wooden table looks great for a Bohemian, rustic, mid-century modern and even an industrial interior style. 
Image Source: Cattelan Italia 
If a black monochromatic interior is your thing, the best-selling Riffa Dining Table with dark grey ceramic will definitely complete the look
Keep these factors in mind and you are now ready to make smart choices when choosing the right dining table for your home! Check out our options for
dining table
and you might find THE ONE with us today!