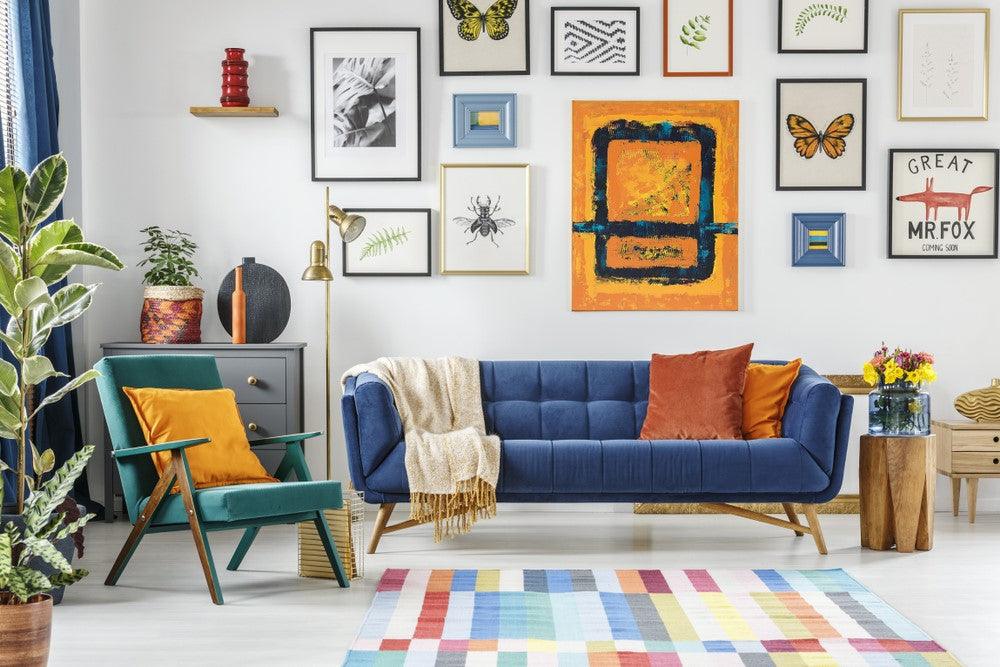 Maximalist Interior Design Ideas for Your Home
Does the complete freedom to go wild with colours, textures, styles, and trends when designing your home sound like the most brilliant idea? As much as minimalist interior design has gained cult status due to its simplistic nature, a new trend has recently emerged – maximalist interior design. Full of splendour and pops of colour, maximalism lies on the opposite spectrum compared to minimalism. While the subdued design seen in minimalism catered to space limitations of most homes in Singapore, maximalism is all about having excess take centre stage. Throwing out the whole "less is more" concept out the window, maximalist interior design strays away from muted tones, simple lines, and order. A complete mash-up of anything and everything, maximalism has disrupted the world of interior design – in a good way, of course. Creating harmonised chaos in your home that is capable of taking you on a journey, we cover design ideas that will transform your abode into a maximalist haven.
The Basics of Maximalism
At the heart of maximalism, is the layering of multiple design elements to provide an escape from the concrete jungle we're surrounded by. Drawing inspiration from eclectic design to add life to the living space, there are a couple of basic factors worth noting:
Lots of colours, including bold ones
Having more of everything will work in your favour
Add art to make the space more personal
Put comfort at the forefront of the design schema
Balance is key, not perfection
At first glance, it may seem like there are a lot of "rules" to follow. But this design generally celebrates full-on luxury, the richness of tones, patterns, and textures. Allowing for repetition, graphic details, and one-of-a-kind features, you can make use of the limited space you might have, in the boldest ways to create an opulent yet truly cosy environment.
Is maximalism for you?
Not sure if a maximalist interior design schema will truly represent your personal style and taste? One thing is for sure – if you are all for keeping things bare and minimal, always opting for the essentials only, then maximalism might not be for you. Screaming for attention from every angle, this design is for the rebels at heart who appreciate a cacophony of saturated hues, materials, and textures. Embracing the clash of materials and experimenting with furniture choices, this theme is for homeowners who appreciate the challenge of establishing some form of visual continuity amongst the collision of elements.
How to Pull Off the Look at Home
So, you've decided to give this maximalism a shot. But where do you start?
The living room
There are numerous ways to pull off this look, especially in the living room, which is probably the biggest room in your home. Starting in the living space will set the foundation, giving you a base to refer to when confirming that there is a running theme or cohesiveness throughout your entire abode.
WRIGHT | 2 Seater Full-Grain Leather Sofa
When looking for furniture to decorate this space, start with your sofa. Choose a luxury sofa that acts as the centrepiece that ties all the visual diversity in the room together. You could work with one material throughout the room while switching the colours. For example, if you have a 2 seater full-grain pink leather sofa, throw in a leather armchair that is of a completely different colour. You can also get creative by layering multiple upholstery or changing up the materials of the sofa support. Better yet, at HomestoLife, you can choose from over 200 colour options and customise your entire sofa to be of a specific hue. From combining L-shaped fabric sofas and leather armchairs to metal and wooden legs, do not worry about consistency.
While you're at it, throw in a unique statement piece that has the likes of the innovative and modern lift-up coffee table. A custom-made ottoman or two is a classic way of adding quirkiness. Maximalism also allows for multiple items like books, statues, and artwork to be strewn around the home. Therefore, add in TV consoles and bookshelves where needed to shelve these art pieces tactfully.
The dining room
Are your living room and dining room connected? Let the flow be seamless with repetitive patterns. Opt for jewel-toned furniture like the DALLAS that will complement pieces like the TRAPEZE to a T. In the dining area, wow guests with a sleek extendable dining table like the FLORENCE CERAMIC that adds dramatic flair to the space.