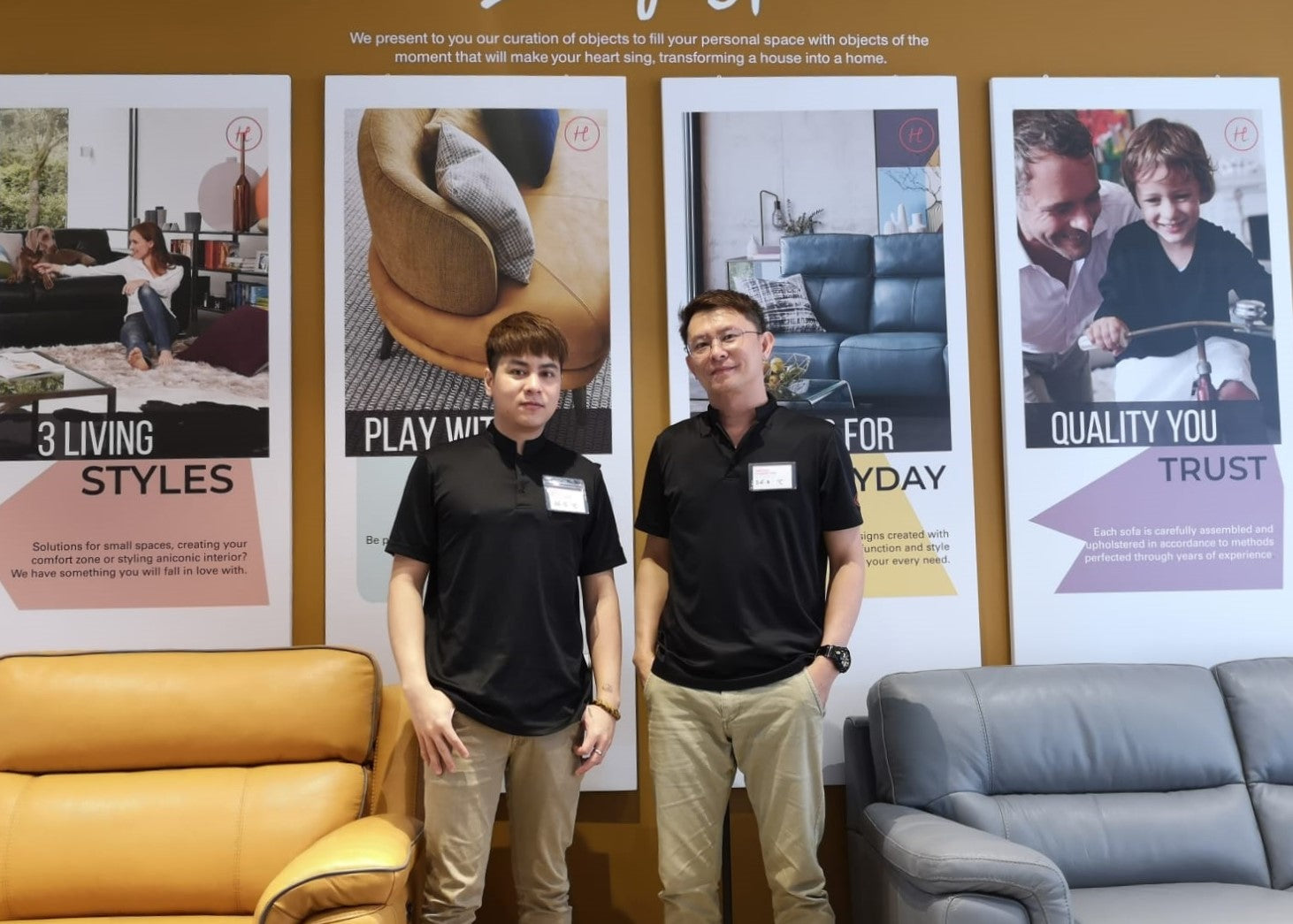 Our Style Advisors Answer 10 Commonly Asked Qns!
Is this the first time you are shopping for a sofa with us at HomesToLife? Fret not, we have compiled some of the most commonly asked questions when purchasing for a sofa and have them answered by our Style Advisors just for you!
Q1: Can we customize the size/configuration of the sofa?
Style Advisor Brandon (Enterprise One):
Yes, all of our sofa models can be customized and have multiple options in terms of sizing, function and configuration. Depending on your preferences on model and size, we will advise suitable options that can meet your needs. We have a wide variety of options, ranging from small 3-seaters and compact L-shaped sofas to generous sectional and large 4-seater sofas, for every living space. 
Check out some of the interesting configurations and sofas delivered here 
Q2. I am interested in getting a L-shaped/sectional sofa but will there be any delivery issues when accessing via lifts? 

Style Advisor Kim (Great World):
L-shaped & sectional sofas are put together with multiple configurations that can usually fit into the lifts. There is also no need to worry as we will advise and provide solutions if you have special needs or space requirements as such. 
Read more information on planning for delivery here
Q3. How long does it take for my made-to-order sofa to be ready?
Style Advisor Chris (Marina Square):
It takes approximately 8 weeks for your sofas to be produced and delivered to your doorstep. 
Q4. My apartment is not ready yet, can you hold the delivery til a later date?
Eng Lye (Enterprise One):
For made-to-order sofas, we will waive storage fees for up to a maximum of 1 month from the delivery date indicated on the sales order on the date of purchase. For ready stock items, they will have to be delivered within 1 month from date of purchase. 
Q5. I don't want the material shown on the sofa. Do you have other options? 
Style Advisor Shao Fu (8@TradeHub):
Yes, we have 8 different types of leather, ranging from full aniline to protected leathers, and up to 90 colours. If you prefer using fabric for your sofa, we have 9 types to choose from, including velvet and leather-like fabrics, and up to 72 different colours in total. 
Q6. Can the recliner sofa last?  
Style Advisor Isaac (Space@Tampines):
We work with quality manufacturers that are ISO-Certified and adopt best practices at every production stage to ensure that they meet International Standards. You can be assured the quality of our recliner sofas.  Also, we provide a warranty of one year for the mechanisms and motors. If the replacement of spare parts is required many years down the road, our after-sales service is able to do so. 
Q7. I do not have a power plug near where I want to put my recliner sofa. 
Style Advisor Kwok Wai (8@TradeHub):
If you do not have a power plug to keep your sofa constantly plugged in, we have battery-operated recliner sofas that need to be charged from time to time. Otherwise, we have manual options for some of the sofa models as well. 
Q8. Do you have warranty for the sofas and for how long?
Style Advisor Terry (Space@Tampines):
We provide warranty of 10 years for the wooden frame, springs and webbings of the sofa. For the other elements like upholstery, stitching, mechanism and foam, the warranty is 1 year. 
Find out more about our warranty here
Q9. Will the seats/back start to sink after some time? 
Style Advisor Joe (Great World):
Sofa seat and back cushions will always get softer over time, and depending on how you use it. While the construction of different model varies, we use a combination of high density foam of various firmness to provide soft comfort but a firm support that can better withstand the pressure of your body weight. Foam resilience test, coil spring weight resistance test, sofa fatigue tests and no sag spring lifetime test are conducted in the factory to ensure that our expectations in sofa quality are met. The no-sag spring suspension also eliminate sagging and increase firmness of the sofa. A tip is to alternate the area you sit on, to spread out the compression over a long period of time. 
Q10. How should I take care of my leather sofa? 
Style Advisor Kong (Marina Square):
You can vacuum your leather sofa using a soft brush for dust removal for day to day cleaning. We recommend using a leather cleaner for spot cleaning to remove dirt or stains. However, this is not recommended as a regular cleaning routine as overusing it may cause damage to the coating of the leather.

Also, we recommend applying conditioner once in every 6 months helps to provide a protective layer and keeps the leather supple. 
Read more information about care & maintenance of your leather sofa here
Whew! I hope that helped you understand a little better about some basic information about purchasing our sofas!  Leave a comment below or drop us an email at hello@homestolife.com if you have more questions for us! 
p.s. In case you are wondering who the guys are in the picture above, they are our Style Advisors Shao Fu & Kwok Wai from 8@TradeHub!