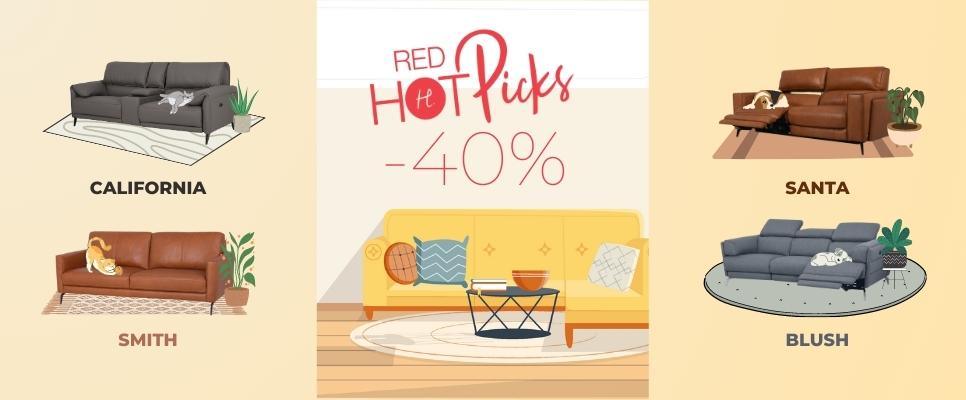 This Season's Red Hot Picks Are Here!
Enjoy 40% off sofa customisation with our Red Hot Picks! 
Looking to revamp your living space with a stylish and comfortable sofa but having troubles choosing? Look no further! HomesToLife is thrilled to unveil our latest Red Hot Pick sofa models to make your decisions easier. What's even better? You can now enjoy a straight-up 40% discount on all made-to-order sofas for these stunning models. It's an offer you don't want to miss!
Smith
Pecan Brown Leather Sophistication: The Smith 2.5-Seater Sofa in Pecan Brown Leather is the epitome of luxury and style. Crafted with utmost care and attention to detail, this sofa exudes a timeless charm that will complement any interior decor. The rich pecan brown leather adds a touch of warmth and elegance to your living room, creating an inviting ambiance for relaxation and entertainment. Click here to explore the Smith sofa model.
California
Experience the ultimate comfort with the California 2.5-Seater Recliners. This modern and sleek sofa is perfect for those who appreciate both style and functionality. Whether you're binge-watching your favourite TV series or enjoying a quiet evening with a book, the recliners provide the perfect spot to unwind. Discover more about the California sofa model by clicking here.
Blush
Blush is a statement piece that will steal the spotlight in any room. This sofa model is available in a range of eye-catching colors to suit your personal style and preferences. Immerse yourself in luxurious relaxation as you sink into the plush cushions and experience the impeccable craftsmanship of this eye-catching piece. Discover the captivating charm of the Blush sofa model here.

Santa
Indulge in luxurious comfort with the Santa Double Power Recliner Sofa. This sofa model combines contemporary design with the latest technology to offer you the ultimate relaxation experience. With its double power reclining feature, you can easily find your desired position for optimal comfort. The Santa sofa is perfect for unwinding after a long day or enjoying a movie night with loved ones. Learn more about the Santa Double Power Recliner Sofa here.

Head to our showrooms today to experience these exquisite sofa models firsthand. Elevate your home's style and comfort with HomesToLife!