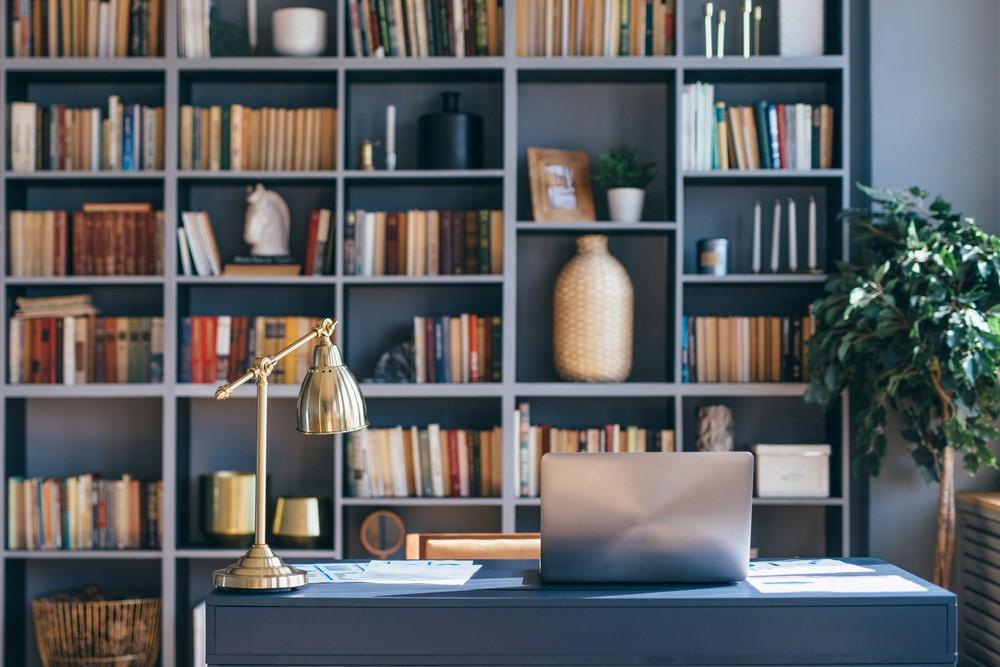 The Ultimate Playbook for Bookshelf Ideas
When designing a home, we often look at the key elements and aspects of interior design – the hues that will coat our walls, the material of the larger furniture pieces that will stand the test of time, even the configuration and design oddities that will add character to our home. As much as this process allows for creativity, there are a few important pieces of furniture that come in rigid shapes and sizes, leaving homeowners uninspired when it comes to decking out their space. Although built to serve a fixed function, a little experimentation with such furnishings is sufficient to revitalize the space. One such furniture piece is the bookshelf.
Typically used to display an impressive library, bookshelves, though simple in design, can actually be a style statement. However, many homeowners stick to utilising bookshelves to serve the same practical function of storing items such as books and some of your favourite artwork. Overlooked in terms of its design capabilities, it is crucial to understand that, like any furniture piece in a home, bookshelves can make or break the style and layout of any abode. To ensure that your display and bookshelves add appeal and a level of artistry to your living space, we cover the tips on how to choose, style, and decorate these modern yet underrated fittings.
What to Look Out for When Buying a Bookshelf
When shopping for the right furniture for your home, there are several questions that you should ask yourself to ensure that it is a well-informed purchase. Beyond setting aside a budget, consider looking into the following:
1. What will be the ideal size?
Do you have an abundance of books that you would love to put on display? Perhaps your modern residence only has a narrow space that might not cater to large furnishings? Whether you live in a home that is limited in space or you prefer taking a minimalist approach so as to leave an abundance of floor space to move around, the dimension of your bookshelf is a crucial factor to study. So, be sure to measure the space you have available. From there, find a bookshelf, be it in furniture shops or online, that has the ideal dimension that will best fit the area.
2. What kind of style will complement your home interior?
Unlike what most people assume, there is a wide range of styles and types of bookshelves available in the furniture market today. From in-built wall shelves to floor-to-ceiling wooden bookshelves, finding the perfect balance between aesthetics and functionality can be a daunting task. This is especially so for pieces that have to be pushed up against a wall and into the background. From unique ladder-style bookshelves like the UPWARD that have a modern touch or open shelving units like the CYPRESS, there is a wide range of styles to select from.
3. What is best the colour and material choice?
As mentioned, the standard wooden bookshelves tend to be a popular choice. However, display shelves like the BAROQUE put a modern twist to these rectangular pieces by combining wood with copper metal legs. Depending on the interior design of your home, you can also opt for ones made of a combination of materials! Better yet, opt for those that have a natural hue or are coated with a specific colour that will complement rather than clash with the materials it has been constructed with. For example, a muted cream bookshelf or one that is of a similar colour to your walls will ensure that the pieces on display will be the focus.
How to Style Your Bookshelf
So, you've gotten the perfect bookshelf to have installed in your home. How do you go about organising your bookshelf so that it features as a fashionable piece rather than substandard book-heavy shelf? At HomestoLife, we understand that styling a bookshelf is a whole other ballgame. To up your styling game, consider doing the following:
Alternate the arrangement to add more personality. If you are using your bookshelves solely for hardbacks and paperbacks, try stacking them both vertically and horizontally. This will not only make the space look more inviting, but it will also get rid of any rigidity that usually comes with displaying books back-to-back in one single direction.
Put everything on display to create dimension. From figurines to other artistic decorative items that you've kept hidden, make full use of any negative space to showcase your trinkets. If organisation is important in your household, you could even use these items as bookends to make it more clean and pleasing to the eyes.
Create a rainbow within your own abode. We've all seen this trend on Pinterest and Instagram where bookworms arrange their books by their tone. You could do the same with your book spines by arranging them in cascading tones and even add more spunk to the area by throwing in fairy lights. Whether these dainty lights are hung from all corners of the shelf or you've added them into a mason jar, a soothing indoor ambiance will be seamlessly created.
Not sure where to buy one-of-a-kind bookshelves in Singapore? At HomestoLife, we have a wide array of sideboards and display shelves, bookshelves, and other affordable furniture for your perusal! Hop on over to any of our stores across Singapore or simply at your favourite pieces to our cart.