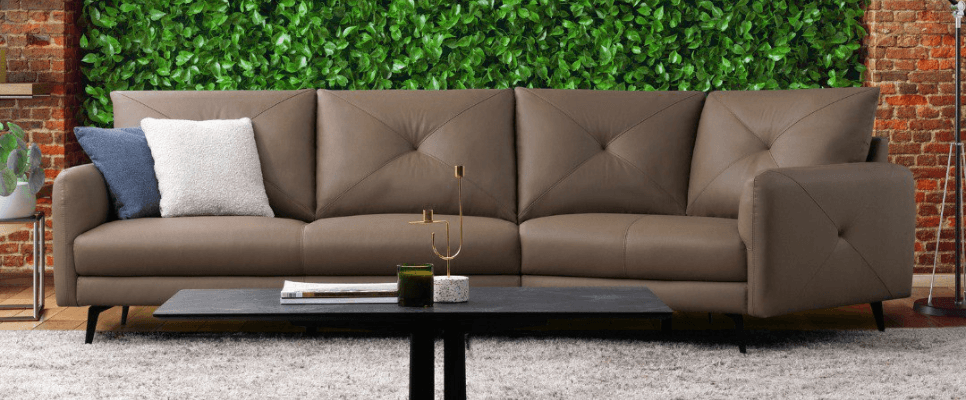 The Ultimate Guide to Finding Your Perfect Sofa: A Step-by-Step Journey
Choosing the right sofa for your home the very first time is an exciting but often overwhelming process. From determining the ideal moving-in date to considering your budget and design preferences, there are several crucial steps to ensure you find the perfect fit.
Let us walk you through the essential considerations when shopping for a sofa, making your journey a seamless and enjoyable one.
Step 1: Determine the Date of Moving into the House - 8 Weeks for Customization
Before embarking on your sofa shopping adventure, it's important to establish the date you'll be moving into your new home. Allowing eight weeks for customization ensures that your chosen sofa will be ready to grace your living space exactly when you need it.
Step 2: Measurements and Space – Bring your floor Plan to Our Style Advisor
To ensure your new sofa fits flawlessly within your living space, taking accurate measurements is essential. Consult your floor plan and bring it along when visiting our showroom. Additionally, rely on the expertise of a style advisor who can guide you through the selection process, recommending sizes that perfectly complement your room's dimensions to the selection of the materials and choice of colours.
Step 3: Shop for Style and Design - Choice of Material, Including Pet-Friendly Options
Finding the ideal style and design for your sofa is a deeply personal choice. Explore the wide variety of materials available, ranging from luxurious fabrics to durable leather options. If you have pets at home, consider selecting a pet-friendly material that can withstand their playful antics while remaining stylish and comfortable. Or you may consider the safeguard material for families with young kids for water and stain resistant.
Step 4: Determine Recliner or Non-Recliner - Needs vs. Wants
The decision between a recliner or a non-recliner sofa depends on your specific needs and preferences. Assess your lifestyle and consider whether a recliner would enhance your relaxation and comfort. Balancing needs and wants will help you make an informed decision that perfectly suits your lifestyle and enhances your overall sofa experience.
Step 5: Budget and Price - Take Advantage of Our Promotions
Setting a budget is an important aspect of any furniture purchase. Determine a realistic spending limit and explore various price points within your range. Always look out for our ongoing promotions or clearance discounts that can help you acquire your dream sofa without breaking the bank. Don't hesitate to inquire our flexi payment options as well.
Step 6: Wait Patiently for Your Sofa - 8 Weeks of Anticipation
Once you've made your selection, it's time to exercise patience as your sofa undergoes the customization process. While waiting for your sofa to be created with care and precision, take this time to prepare your living space and envision the perfect spot for your new centerpiece. The anticipation will only heighten the joy of finally welcoming your sofa home.
Don't miss out on the incredible opportunity of the winning yourself a Free Sofa this July. This limited-time offer presents the perfect chance to upgrade your living space without spending a dime on the centerpiece of comfort and style. Act now before it's too late!

Simply DM us your receipt of your purchase and follow us on IG. Yes! is that simple!

Let us know if you have any enquires! You may contact or visit our stores here.