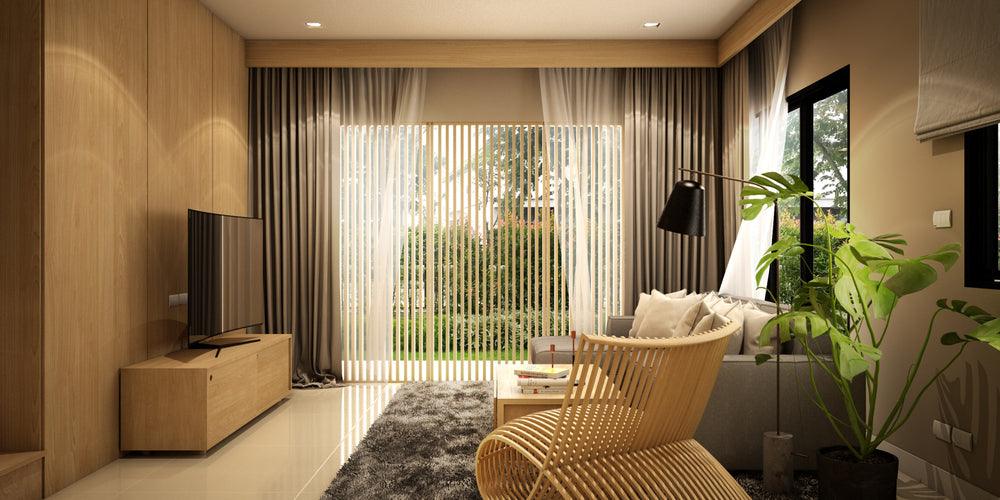 The Charm of Japanese Minimalism
There is no denying the Japanese Minimalism has its religious underpinnings. Despite its link to the philosophy of Zen Buddhism, the term "Zen" is one that has been intertwined with Japan's cultural DNA for the longest time. An amalgamation of impactful pillars such as education, spirituality, and creativity, Zen is the epitome of freedom and enlightenment. So, what happens when you take this philosophy and apply it to interior design? Putting emphasis on simplistic essences and the traditional Zen philosophy, Japanese minimalism is the resulting product. Falling under the umbrella of minimalist interior design, Japanese interior possess a poignant relationship between modern architecture and the natural environment. Offering an organic flow between the essential elements contained within your four walls and the exterior, this design scheme utilises a variety of materials, shapes, and accents to create a uniquely calm abode.
The Key Elements of Japanese Interior Design
Although a minimalistic and uncluttered living space is the result of Japanese interior design, a lot of thought goes into designing the space so that zen, peace, and harmony are brought into the home. Relying heavily on lines, forms, light, and material, this design scheme draws inspiration from ancient Japanese architecture. Even though some might assume that the modern population has since swayed away from these old sentiments, modern-day recreations are still imbued in several key elements that still appeal to the traditional masses. Some of these key elements that will allow you to achieve a zen state of mind include:
1. Modesty
As mentioned, Japanese minimalism is all about Zen. Therefore, Japanese-inspired rooms are modestly designed, avoiding loud and bold colours. Furniture pieces that work best for this design are far from unconventional and are instead chosen solely based on the functionality that they can offer. Focusing on the simple things in life, interior design ideas are restrained as well since practicality and needs triumph over attention-grabbing designs and wants.
2. Clean & Uncluttered
One of the bare essentials required of any type of minimalist interior design is the creation of a clean and uncluttered space. As such, it is important to distinguish your wants from your needs and only pick out furnishings that are completely necessary when furniture shopping. Do you live alone? Then decide if a large L-shape sofa is really necessary or if a 2 seater sofa will suffice. Rarely stay in for dinner? Then take some time to contemplate between a large dining table and a side table that can be pulled out only when necessary.
Though the use of clean lines and a monochromatic palette can play a part in making your living space look less crowded, doing the above will help pull the entire look together and fulfil the basic principles of Japanese design.
3. Elements of Nature
The Japanese culture is all about maintaining a strong connection with nature, and following this design scheme means that you will have to find a way to inject elements of nature indoors. Adding traditional Japanese plants such as bamboo is possibly the simplest way to do so, but others may also choose furniture made from natural materials. Wooden coffee tables, display shelves, and bookshelves are some examples of low-profile furniture that will contribute to the cosy and calm vibe that you are looking to create.
Pulling Off Japanese Minimalist Interior Design
With an understanding of the design principles that reign supreme in Japanese design, it is time to start revamping your space. Incorporating skylights and installing expansive windows are always ideal when trying to open up the space and mimic a typical Japanese home. However, given the space constraints that most of us have to deal with here in Singapore, doing so might not be feasible. Therefore, those embarking on a residential design project can first work on two main aspects (1) colours and (2) the key elements mentioned earlier.
1. A neutral colour palette
If you are unsure about your colour choices, one way to be inspired is to have a look around nature. In general, a neutral palette should be your go-to. If you are keen on adding bold colours, ensure that they are only used as a feature wall as it might be too "loud" for incorporation throughout the entire space. Popular colours include grey, white, and cream. Should splashes of colour be included, go for the greens of natural plants or the browns of wood shelving units, side tables and panels so that you fill two needs with one deed.
2. The key elements of Japanese interior
As mentioned, wood and bamboo are must-haves. From dining tables to coffee tables, opt for those constructed from wood instead of any other materials. The innovative lift up coffee tables like the ESPRESSO and TERRACE made of walnut wood veneer are functional pieces that effortlessly store possessions and close to be a sleek furnishing that keeps clutter hidden. Opting for an extendable modern dining table will also keep the space wide open and empty when not in use.