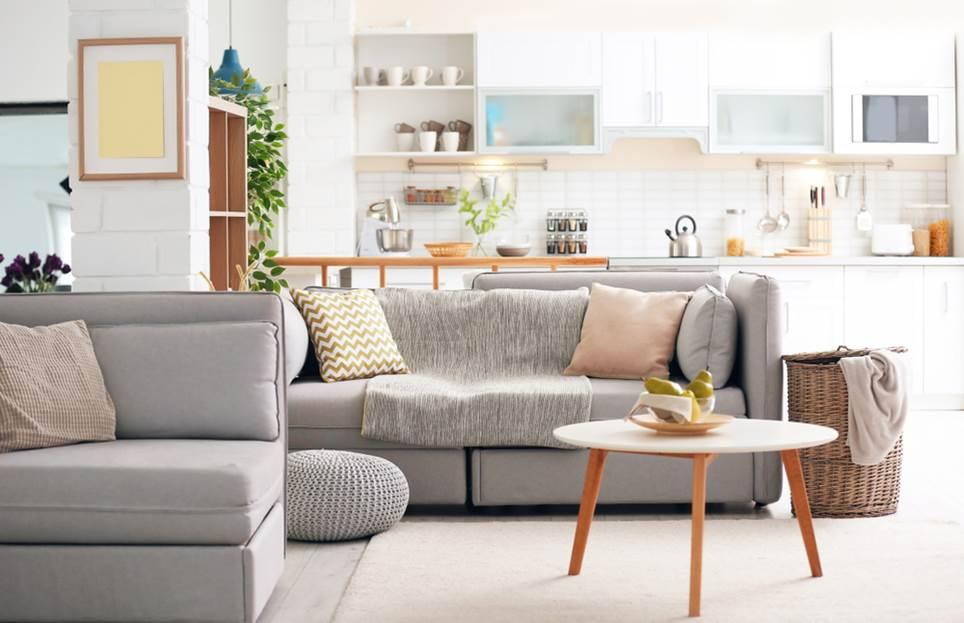 Organisation Tips & Storage Ideas
Maire Kondo has built a decluttering empire by sharing tips and tricks on organising and tidying up spaces. Taking on a minimalism-inspired approach to getting your home to look spick and span, her various strategies have conquered the world in recent years. Although there is no one-size-fits-all prescription to having a clutter-free home, given Singapore's limited space, any storage hacks and solutions that will ease our burdens when tight on space will come in handy. From display shelves to simple rearrangements, with the right selection of furniture and methods of space utilisation, you will be able to make your limited floorspace work for you. In this blog, we cover creative storage ideas and a stream of solutions for your small-space woes.
1. Layered Shelving
Installing storage on storage is a unique way to up your organisation game. Instead of opting for a single storage piece, packing in multiple shelves will allow for more types of shelving units, giving you more space to stash your knick-knacks. When placed in a corner or stretched out along the perimeter of a room, your vertical space can be made use of optimally. These shelves can also double up as great nightstands or makeshift tables.
UPWARD | Display Shelf
If a full-blown layered piece is not your cup of tea, go for floating furniture. Open shelves not only fit into a narrow stretch of walls but also open up the space for easy access of items and prevent the floors from looking cluttered. Making a bold statement while being fully functional, ladder-style pieces like our UPWARD display shelf help lighten up the look and feel of the room.
2. Bid Adieu to Massive Closets
Gaining valuable spots to keep essentials is a constant battle in restricted spaces. Since closets tend to take up too much floor space, it is best to use your walls for storage and clear off the floors. Keep your room looking clean and calm with wall-mounted shelves or any form of open shelving. When you hang a clothes rack in an empty corner or add boxes to create a customised drop zone for laundry, more storage space is offered, making up for the storage scarcity.
3. Choosing Convertible Furniture
APARTMENT | TV Console
Also known as multi-functional furniture, these convertible furniture pieces can be transformed into another for easy use in innovative ways. Lift up coffee tables, like the TERRACE, come with in-built storage space that keeps things out-of-sight yet conveniently accessible. Modern TV consoles, like our Manhattan interior style APARTMENT, stylishly disguise items such as remote controls and DVD players while putting your television set on display. 
4. Adding an Entryway Table
Tend to throw your keys and other belongings all over your home? A sleek and minimalistic table like the HELSINGOR can be used as an entryway table. Side tables or even bookshelves in your entryway will function as a mantelpiece to throw trinkets, books, and artwork, all while pulling the space together to look perfectly curated.
5. Multi-Use Bookshelves
Though its name suggests that it is only meant for one item, bookshelves are not only meant for books. Able to work in a variety of ways, bookshelves can be used to hold up other things too! When strategically placed, your wood bookshelf can serve the same function as a display shelf or desk space. Large statement pieces like the WARREN can also be used to separate living spaces from the dining area or as a simple room divider. Keep a lookout for other helpful add-ons like small bins and baskets to keep clutter at bay in a stylish way.
There are a ton of ways to get up to par with the Marie Kondo decluttering methods. Instead of throwing things out simply to have your home looking neat, the power of well-made built-ins, display shelves, or TV consoles suffice in ridding any visual disarray in your abode. To maximise the limited square footage of your living space, get creative with your storage ideas and these organisational tips. For more modern and top-quality furniture, browse the extensive HomestoLife catalogue and shop your storage woes away!