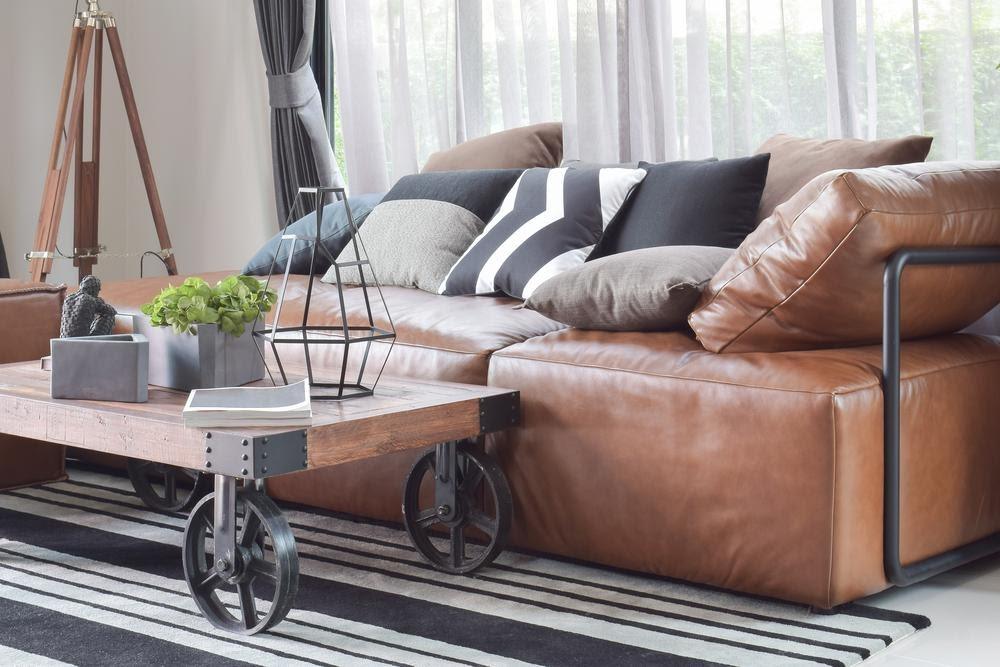 Mastering the Raw Edginess of Industrial Interior Design
Drawing inspiration from the 19th and 20th-century factory floors, industrial interior design is now one of the more popular interior styles in the world. Once a design tactic used to revamp and bring a new lease of life into industrial spaces, it has found its few into our modern dwellings. A common sight in bachelor pads and penthouses, this style captures the rustic essence of industrial structures. Though seemingly rough around the edges, the style is executed very strategically, with several 'rules' factored in to pull the look off seamlessly. If you have plans to transform your living space into one that exudes industrial chic, we have put together a guide, covering all the basics of this interior design scheme. From must-have materials to lighting choices, be inspired by this laid-back style.  
Materials: Metal, Wood & Leather
At its very core, industrial interior design is utilitarian. An industrial-inspired home should be designed to facilitate work. Clean, chic, streamlined, and free of any frills, robust materials that will stand the test of time should be the go-to option, especially when selecting specific furnishings. Of all the materials homeowners can choose from, wood, metal, and leather are the most important ones to have in this design scheme. That does not mean that wooden floors should be installed throughout the entirety of the house. Rather, accents of it should be scattered throughout the space. From full-grain leather sofas to wooden coffee tables and wooden TV consoles, there can never be too many of these mediums. 
RADIUS | Modern Coffee Table
If there was one thing homeowners should take note of when selecting leather, wood, or metal modern furniture, it is to choose those that are minimally reflective and do not have much of a sheen to them. Those that look almost matte, like the RADIUS wooden coffee table from HomestoLife, will lend a raw and "aged" look to the space. This is highly encouraged because even though the overall interior should be polished, the individual pieces should not. 
Vibe: A Touch of Masculinity 
HEPBURN | Full-Grain Leather Sofa
As mentioned, industrial interior is prevalent amongst Bachelor pads all over the world. Given the rustic edge that it naturally possesses, this sense of being incomplete should also effortlessly exude class and sophistication. As tedious and complicated as that might sound, simply adding darker colours like blacks and browns instead of pinks and blues, will do wonders in making your home look more "mature". Darker colours will also ground the room, letting other elements in the room take centre stage. For a more relaxed feel, combine blacks, whites, and tan hues to create contrasts and add character at the same time.
Accents: A Touch of Vintage 
LUSTRE | HomestoLife
If industrial interior design is all about practicality and keeping the space uncluttered and welcoming, how do you go about decorating your home with a personal touch? For one, you can try adding in a few antique pieces to help the space look edgier. In normal situations, there will be exposed beams and brick walls. However, this is more often than not impossible in HDB flats in Singapore. Therefore, antique pieces like the LUSTRE mirror or even full grain leather sofas that will age to develop a patina are great alternatives.
Lighting: Brighten Things the Right Way
From paint colours to even our home furniture choices, we give a lot of attention to different aspects when designing our homes. But there is one element that is often overlooked – lighting. Playing an important role in industrial interior, your lighting choices can make or break the entire design of your home. Since actual industrial sites and factories brought to light the industrial interior scheme, you'd want to select lighting pieces that are matte and sleek. Pieces like the AERIA minimalist classic floor lamp or ADELE contemporary lampshade wall light with gold trimming from Light Makers are the perfect mix of modern and rustic. Also, playing with heights will be a good idea when trying to take the eyes on a visual journey. Adding both floor and wall lamps will lend to the "rawness" and effortlessness that industrial interior is revered for.