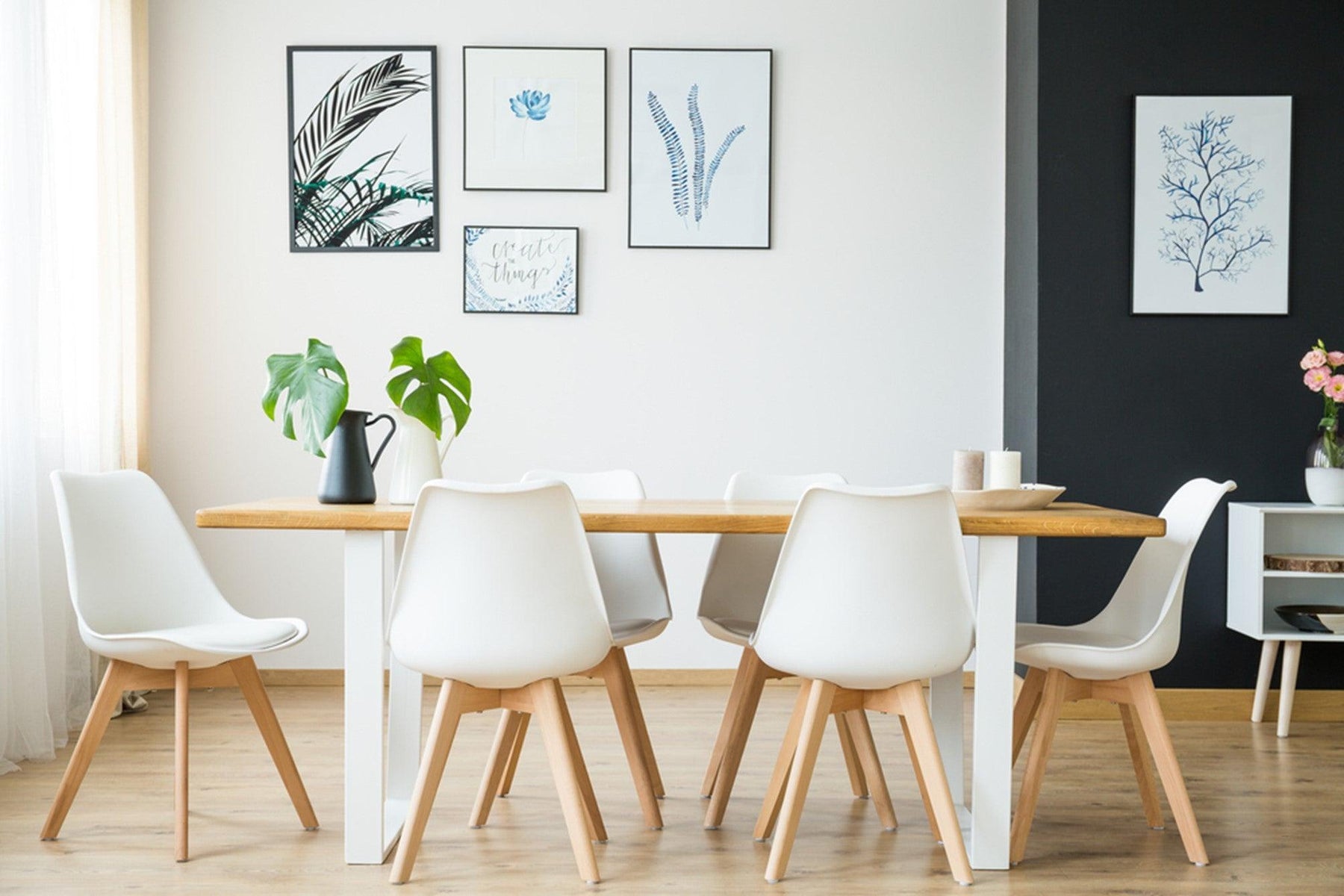 How to Decorate Your Dining Room Table
More than a simple room to have a meal, the dining room is a place where you host guests and hold dinner parties. Typically decorated without much attention to detail, many homeowners take on a functional and practical approach when designing the space. Throw in a sturdy modern dining table, some dining chairs, and you're all set, right? Well, not really. Even when attempting to decorate a dining room, it is a common sight for homeowners to turn to decor options that lacklustre and not stylish - think fine lace tablecloth and fruit bowls. 
Deserving a little extra attention, your dining room can be in tip-top condition, ready for last-minute hosting sessions with some decor. From shabby chic to modern dining room decor ideas, we have rounded up various ways you can decorate your dining room table so that you can take inspiration from it and recreate it in your home.
1. Dining Room Decor Idea: Textures & Neutral Colours
A streamlined neutral palette is not only fresh and clean but is also soothing and adds a grounding vibe to the space. A light theme will also open the space, making it look more expansive and hence, more inviting. If a neutral colour scheme seems to flat, bring in textures through your furniture choices. Furniture that has architectural dimensions or has wooden grains running through will subtly elevate and complete the design; it will also add excitement to the room that may otherwise seem stale.
2. Dining Room Decor Idea: Unexpected Elements
The table and chairs are normally the focal points in the dining room. Sprucing up the area around it will make the room look more inviting. To up the ante, consider adding:
Instead of repainting the walls or purchasing new furniture, install mirrors like the Lustre mirror, that will add variety to the room. Light will also bounce off the mirrors and make a small dining room look bigger. It also adds depth and brings in more natural light.
The perfect rug will anchor the entire space and add visual interest, giving you a designated area to decorate your furniture around. Enhance your living space with the blue Alcoy rug for a little oomph.
3. Dining Room Decor Idea: Circular Table
An abundance of straight, rigid, and boxy furniture will make any room look cramped. A round table like the Bolivia will add a quirky touch, changing the dynamics of the space with its organic lines.
4. Dining Table Decor Idea: Bold Table Legs
Bold table legs always make a stylistic statement. When buying such dining tables from furniture stores in Singapore, it is best to select chairs that are more modern and streamlined. The Tuscany table that has metallic accents and elements that are structurally unique, keeps things trendy and classy. This is a good aspect to consider, especially if you have chosen to work with a neutral colour scheme.
5. Dining Table Decor Idea: Mismatched Chairs
It is common for homeowners to go for cohesive sets where the dining table matches the chairs. Though this might be a safe choice, selecting different chairs can do wonders for the space. Choose chairs that complement the table but does not match it completely – this will make a bold statement. Benches like Austin can take the place of standard dinner chairs. A mix of both dining chairs and benches will also work as doing so will give the room a casual feel.
6. Dining Table Decor Idea: Bright Chairs
Going for bold chairs can act as a focal point and add aesthetic appeal. An unexpected colour like amber is a sure-fire way to liven the mood of the room and keep things fresh. Pair our Sunset dining chairs with any of our other dining tables available for delivery in Singapore.
Looking for classy dining table sets in Singapore? Scroll through our extensive collection.