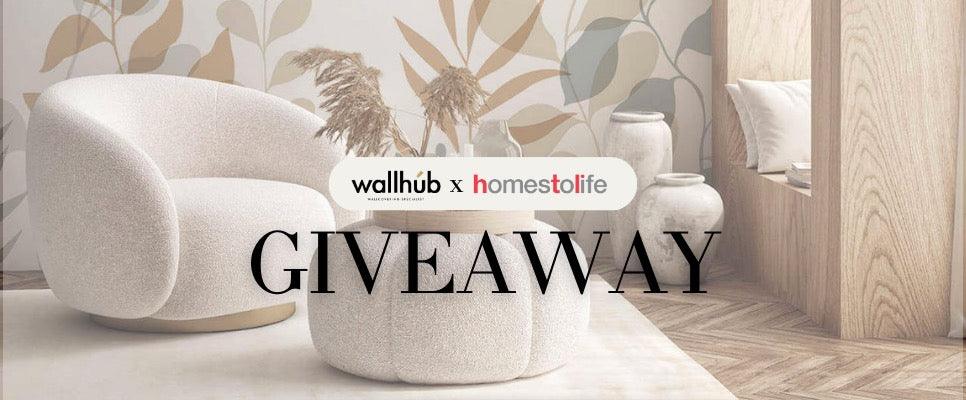 HomesToLife x Wall Hub's Giveaway!
This Giveaway has ended! Thank you to all who participated!

Are you tired of staring at plain, boring walls? Do you want to give your home a refreshing new look? Look no further! In collaboration with Wallhub, they are giving away a set of stunning texture paint along with a tool kit worth $150! The following are the 3 easy steps on how to win. Get ready to transform your living space into a haven of style and creativity!
Step 1: Like, Share, and Tag for a Chance to Win!
To enter the giveaway, start by liking our post on Instagram. Show us some love and spread the word by sharing the post on your Instagram story or feed, along with a mention of @homestolife. Additionally, tag three friends who would also love to refresh their walls with texture paint. This way, you'll not only increase your chances of winning but also inspire others to join in on this excitement!
Step 2: Follow Both HomesToLife & WallHub Instagram Accounts
To stay up to date with our latest products and promotions, make sure you're following both of our Instagram accounts so hit that follow button and join our vibrant community!
Step 3: Await the Winner Announcement on July 29th 
Note: Winner has been announced
Mark your calendars! The winner of the Wallhub Texture Paint Giveaway will be announced on July 29th in Homestolife post. Stay tuned to our Instagram account and keep an eye on your notifications – it could be you! We will contact the lucky winner directly, so make sure you're reachable by having your account public.
Visit our Instagram accounts @homestolife, for daily inspiration and endless possibilities for your dream sofa. We can't wait to be a part of your sofa shopping journey!