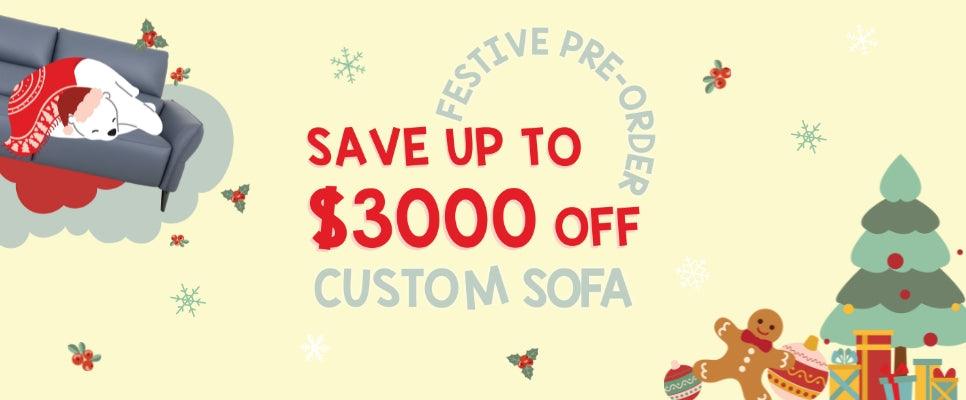 FESTIVE CELEBRATIONS : Pre-Orders Promotions
This Promo has Ended!
Are you looking to revamp your living space with some fantastic new furniture without breaking the bank? Look no further! We've got a special offer that's bound to make your home more inviting and stylish. Whether you're in the market for a customized sofa, a dining bundle set, or a ready-to-go option, we've got you covered. But you'll need to act fast, because this incredible deal is only available until November 12th, ensuring your new furniture arrives before Chinese New Year in 2024.
Customized Sofas: Save Up to $3,000!
Our customizable sofas offers you the opportunity to pick MORE THAN 400 colours & fabric and sizes that matches your lifestyle. You can save up to $3,000 when you customize your dream sofa before 12 Nov to have them delivered before CNY 2024.
Dining Bundle: Get Extra 5% Off!
For those in need of a dining table and dining chairs, we provide this essential package which you can buy your sofa together to enjoy more perks this festive . Purchase any of our customised sofa plus Dining Bundle Sets, which include one dining table and four chairs, for as low as $1,899, you'll enjoy an additional 5% off the total bill. It's the perfect opportunity to transform your dining area and create a cohesive look throughout your home.
Grab & Go Sofa: As low as $1,799 for full leather
Can't wait and need to have the sofa ASAP, get our Grab & Go Sofa Collection which are available in various designs, making it easy to find one that complements your existing décor. But here's the cherry on top – when you bundle your Grab & Go sofa with any living or dining items, you'll receive an extra 10% discount.
Order Before November 12th!
Don't wait too long to take advantage of these fantastic deals! The clock is ticking, and you'll need to place your order before November 12th to ensure your new furniture is delivered to your doorstep before Chinese New Year in 2024. This way, you can start the year with a fresh, stylish, and comfortable living space that your family and friends will envy.