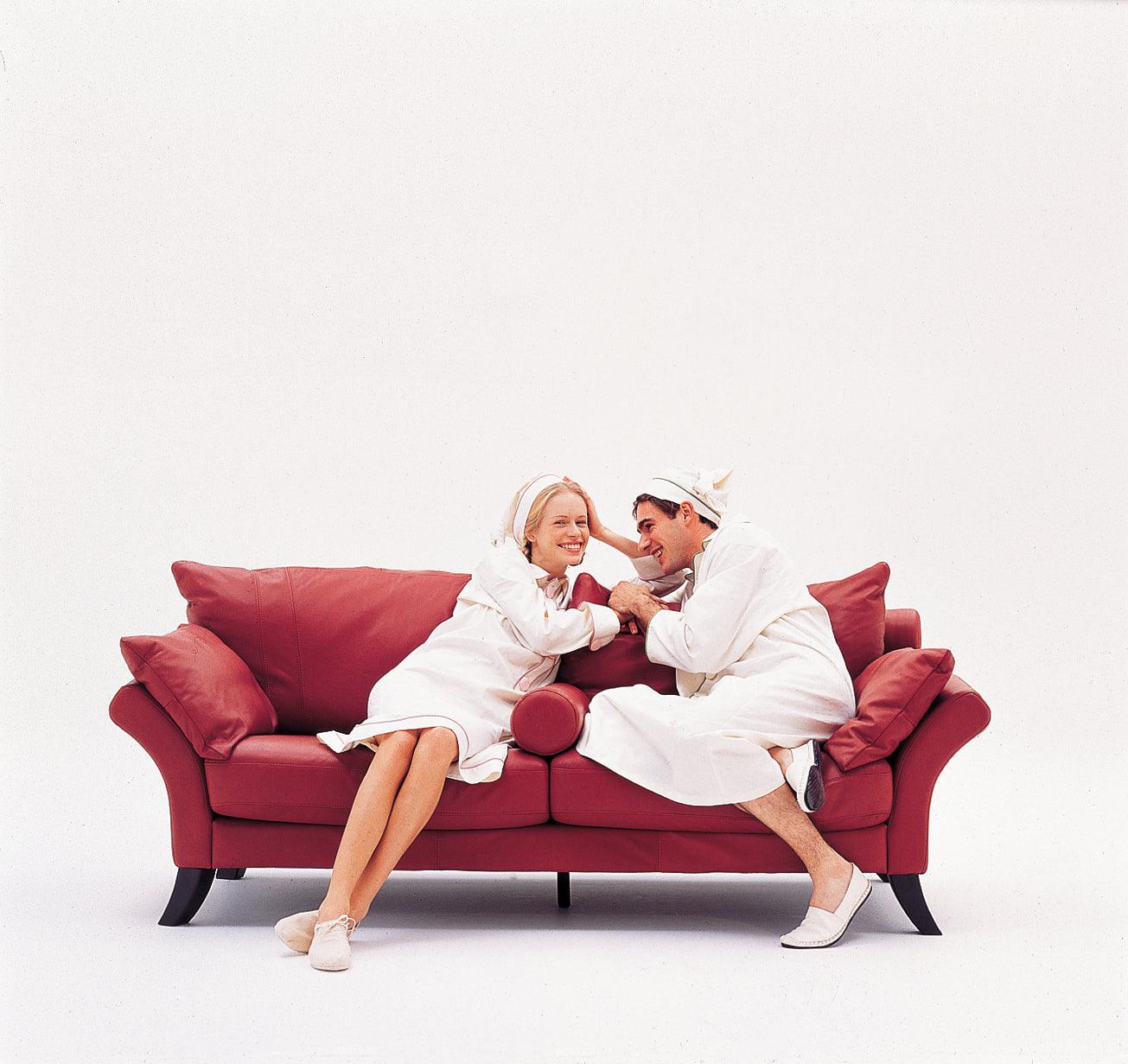 44 Years of Great Sofas: Sitting Pretty Since 1976
Commemorating HTL's 44th anniversary, we look back at some of the significant moments in the last four decades making great sofas that brought us here today.
Jack Lee, HDB living room (1970s and 1980s), Singapore History Gallery, National Museum of Singapore
The 70's were a pretty iconic time for Singapore. In the early days, wooden sofa with fabric seat and back cushions were the typical seating furniture of the era. It was popular since it suited our humid climate and was simple to upkeep.   
By then, most of the local population were living in new high-rise Housing and Development Board (HDB) flats in housing estates. The first colour TV set made its debut in 1974, and the living room became ever more important for the family to receive and entertain guests. But as Singaporeans became more affluent, European-style fabric and leather sofas epitomized luxury and style.
Posed photograph showing spacious interiors of a 5-room flat with family members engaging in different activities. Source: HDB (from Yeh, "Public Housing in Singapore: A Multidisciplinary Study", 1974)
Against the backdrop of rapid economic development, the Phua brothers decided to venture into the furniture trade, starting Hwa Tat Lee producing PVC sofas for the locals. 
In the 1980's, Hwa Tat Lee signed a manufacturing agreement with Laauser Moebel Gmbh, a leather sofa company founded in 1894, to produce leather sofas. Laauser would train the local team how to set up a leather sofa production facility and train its workers in the art of leather sofa craftsmanship.  A Research & Development team was then put together to re-engineer products designed by Laauser that will be suitable for the Asian market.
One of the early sofa designs by Hwa Tat Lee in 1980's.  Strong Bauhaus influence, minimalistic tailoring and great seating comfort are hallmarks of their products.
In the 1990's, the company worked with Musterring, a German brand, to launch a total lifestyle concept for the Asian market. Through this collaboration, they hired cutting edge German designers to create trendy collections for Australia, Japan, Hong Kong, Singapore, and Taiwan. The design aesthetics of HTL is to emerge around this time, favouring an ultra-modern Germanic style.
MR 3550 as photographed by Actus, Japan.  Source:  Actus Japan
The Mio sofa was launched in the 1990s and it remained one of the most well-loved styles of that era. Its metal feet was inspired by classical European furniture reimagined into the modern age. 
Most of its products were made with high quality construction such as no-sag springs and multi-density foam typically used only by European manufacturers.  Hwa Tat Lee was renowned in Singapore for "Bringing German Engineering Home", democratizing the ownership of leather furniture by making a luxury product more affordable for the Singaporean household. 
Space sofa by Matthias Hoffmann in the 1990's
MH 9736 from the Rosaline by Matthias Hoffmann in 1999
The collaboration with designer Matthias Hoffmann saw the development of a new era of designer collaboration for HTL. Hoffmann designed for the likes of DeSede and Rolf Benz. Using heavy weight leathers of 2.0mm thick leathers and thick contrast stitching to accentuate the form of each sofa, the 10-piece collection achieved commercial success in Singapore, Japan, Taiwan and Hong Kong. Not many furniture companies in Asia possessed the craftmanship that HTL had at that time to produce such an exquisite collection.
Q02 from the Tranquillo Collection launched in Koln Furniture Fair in early 2000s
By the 2000s, Hwa Tat Lee has renamed itself to HTL International as it expanded quickly into the US & European market. One of its innovation was creating the Full Leather Massage chair, partnering with the Swiss company Ciar, targeted for the German market. Unlike traditionally designed massage chairs, the range of massage chairs branded Tranquillo was designed to blend elegantly into the living room space. 
HTL 2233, featuring ratchet-able back and padded armrest
With the vision of "A Sofa for Every Home", HTL aims to create a wide range of styles and designs that will appeal to the global market it serves. The company has long standing relationship with a global design team working with its internal R&D team to translate every design imagination into a product that will take centre stage in any home. 
One of the earlier recliner design with the basic high back and manual recliner.  Charming even in a basic design
In the last decade, HTL has created an outstanding collection of both leather and fabric recliners that has won many customer accolades for its stylish designs, functionality, ergonomic comfort and configuration options.
It was one of the key players who started the recliner trend in Asia and Europe as it was able to engineer what was traditionally an expensive category at reasonable prices. By focusing on creating a striking design with a recliner instead of trying to design around the mechanism, they were able to challenge typical design norms to develop smart looking recliners instead of the traditional-looking bulky recliners.
HTL 2148-F , recliner that features a ratchet-able back, an upgrade of the basic recliner
Originating in the HTL Group, HomesToLife is Singapore's top destination for timeless and versatile furniture.  The wide range of sofa collection will suit Singapore's modern living style, offering exceptional options at fair prices. Customers can create their perfect sofa by customizing materials, functions, colours and configurations.   
Flight Recliner Sofa, with double motor recliners allowing both head-rest and leg-rest to be adjusted independently for the most customized seating position.  Available in HomesToLife stores.