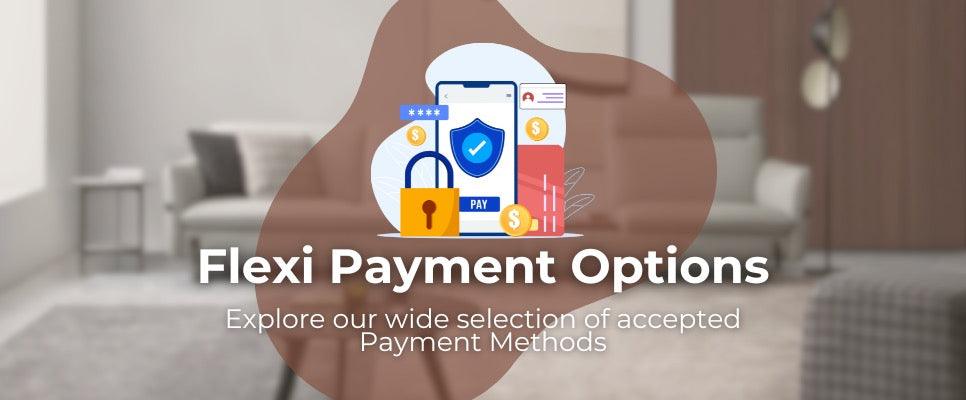 Hassle-free transactions at HomesToLife!
At HomesToLife, we aim to provide affordability and convenience to our customers, providing a wide array of payment options to choose from, to suit the various needs of customers.
Did you know that you should save your money for any unforeseen circumstances or rainy days. Hence, it is important for you to spend within your means, without imposing much financial burden. Thus, HomesToLife provides a wide range as well as flexible payment plans to suit your needs, from 0% instalment plans, up front payments, earning points or even getting rebates and cashbacks.
Explore the range of payment methods that we offer:
Do you require instalment plans?
Introducing UOB Credit Card Instalment : Worried about the bulk payment of your dream sofa? Freight not, HomesToLife has partnered with United Overseas Bank (UOB) to provide a convenient and affordable 0% instalment plan specially for you.
UOB offers a special Instalment Payment Plan (IPP) which allows you to split purchases into monthly instalments at a 0% interest. Additionally, to further ease any financial burdens, UOB offers flexible payment options from 3, 6, 12 to even 24 months. The IPP is offered in over 3000 participating companies, which includes us, HomesToLife, allowing you to purchase the products of your dreams without a whopping bulk payment but an affordable monthly payment. Find out more about UOB Instalment Payment Plan here. 
GrabPay Later
GrabPay Later is an interest free 4-month instalment plan, one of our latest payment options. How does it work? You just have to pay 25% upfront at the point of purchase, and the rest will be distributed into the next 3 months. Learn more about GrabPayLater. 
Atome
Want to split your purchase into 3 payments? HomesToLife accepts Atome as a payment mode. Atome is an interest free 3-month instalment plan, which splits your bill into 3 equal payments monthly.
With Atome, you will only need to pay the first instalment, ⅓ of the bill at the point of purchase and the rest will be deducted from your linked card  across the next 2 months, 30 days apart. This reduces your point of purchase payment. Additionally, Atome has a mobile application which allows you to track payments and payment balances, preventing you from missing any payments. Learn more about Atome.
Or do you prefer earning points?
GrabPay 
With our partnership with Grab, HomesToLife allows you to purchase your dream sofa and furniture, while receiving up to 1.2% GrabPoints and GrabRewards during your transaction.
GrabPay is an efficient method of payment allowing you to pay for things via a simple QR Code or an account transfer for hassle-free transactions. GrabPay provides multiple payment services, from GrabPay Wallet, which requires you to credit funds into the GrabPay Account, or by simply linking Paypal Account, credit or debit cards to the GrabPay account for payment transactions.
Regulated by the Monetary Authority of Singapore (MAS), GrabPay also offers a high level of security with their partnership with ayden and stripe, which protects users' information. Learn more about GrabPay.
Or would you rather receive cashbacks?
FavePay
Want to earn cashbacks during your purchase? FavePay provides HomesToLife customers with cashbacks when you make a purchase with us.
FavePay is a cashless payment method through mobile application, which allows you to make purchases with a simple click of a button. FavePay eliminates the need for you to carry around your bulky wallets and make payments with the Fave Application. All you have to do is link your credit or debit card to the mobile application. Additionally, FavePay also provides discounts and cashbacks of up to 20% at selected participating outlets. At HomesToLife, you can get a 1% cashback for your purchases. Isn't that great. Learn more about FavePay.

These payment methods as per above are available in all of our stores!